A number of major websites were down yesterday morning, including Google, Amazon, Reddit and Twitch. The outage lasted for an hour and even broke services such as Twitter's emoji.
The outage occurred through Fastly which is a cloud computing provider and highlights how interconnected (and sensitive) the world wide web really is.
The error occurred with something called the Content Delivery Network (CDN) which is a geographically distributed network of proxy services and data centers. They came about when performance bottlenecks in the 90's were causing slowdowns, especially as use exploded.
By distributing the load it allowed for the faster connectivity and increased bandwidth we enjoy today, along with better reliability. CDN nodes are deployed at multiple locations, and while the entire internet won't go down if one is affected, as yesterday proves it can still cause significant issues.
So, what caused yesterday's issue in the first place?
Believe it or not the thing that brought down all those major players was actually a customer error. A dormant bug in Fastly's code reared it's head on Tuesday when a customer changed updated their settings.
This setting change (which was a valid configuration) triggered a specific circumstance which activated the bug and caused Fastly servers to begin reporting errors throughout 85% of their network.
Fastly claims they detected the error within one minute which allowed them to contain the incident within an hour. They say they should have anticipated this error could occur in their messaging on the incident. Fastly maintains one of the largest CDN's on the internet.
While it was a relatively short outage, the cost to the websites that were down is still staggering, Early estimates indicated Amazon alone could have lost $32 million in sales.
This outage indicates how truly disruptive technology related downtime is. Even for small business's the costs can be extreme. Look at our chart below to see just how much downtime costs can add up.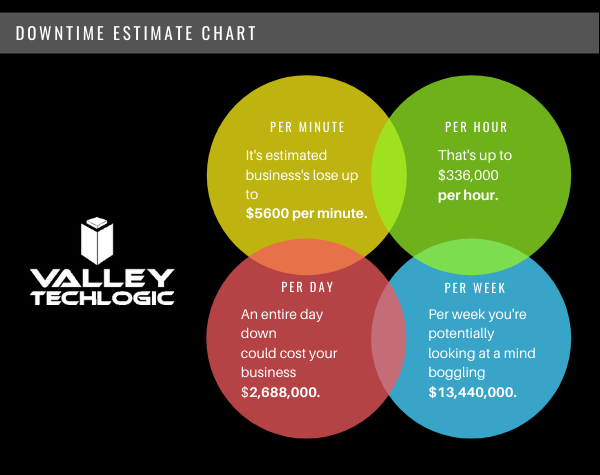 We know these numbers seem extreme, but if you tally up potential sales lost and the cost of just running your business during an outage – it really can add up fast.
If you'd like to learn more about what downtime really costs you, as well as how to prevent it, we have a free report on this topic you can find here.
We help the business's we support prevent unnecessarily downtime every day. If you're finding yourself navigating this and other technical problems – we can help. Visit our plan page to see if Valley Techlogic could be a good fit for your business.
Looking for more to read? We suggest these tech articles from the last week.
This article was powered by Valley TechLogic, an IT provider in Atwater, CA. You can find more information at https://www.valleytechlogic.com/ or on Facebook at https://www.facebook.com/valleytechlogic/ . Follow us on Twitter at https://twitter.com/valleytechlogic.