Are you looking to start or expand your Cybersecurity Insurance Policy in 2022?
Cybersecurity insurance is changing and evolving to match the existing threat landscape.
Buying insurance is a time consuming process, there's the underwriting process and you'll need to truly evaluate your business's situation.

You wouldn't hesitate when purchasing flood, fire or earthquake insurance for your business because if the unthinkable happens, you want to be covered and know your business will recover. So why would you hesitate when purchasing cybersecurity insurance? Here are some factors we think you should consider when it comes to cyberthreats:
It's Common: Cybersecurity threats are real, and they are common. It's much more likely your business will experience a cyber attack than a flood, earthquake or fire.
It's Misunderstood: When we think of "hacks" we may think of a hooded guy pounding away at his keyboard, trying to get in. Most cyber attacks happen incidentally, your business may be hacked because you were caught in the cross hairs of another target. Also, most attacks these days are automated and conducted by groups of criminals working together.
The Damage May Not Stop At You: Speaking of being caught in the cross hairs, your clients will data will also be at risk if you experience an attack, and this could open your business up to additional liability.
Even if these things do concern you, you may not know where to start, or how much cybersecurity insurance coverage you'll need for your business.
That's why you need to grab our report. Our FREE report will answer ALL of these questions:
The difference between first party and third party cybersecurity insurance.
The factors that go into forming your insurance policy and what the premium will be.
What insurance brokers are looking for and the questions you may be expected to answer.
What your cybersecurity insurance will cover and NOT cover.
What you should do to prepare BEFORE buying a cybersecurity insurance policy.
Simply Fill Out The Form To Instantly Receive Your Free Report Today!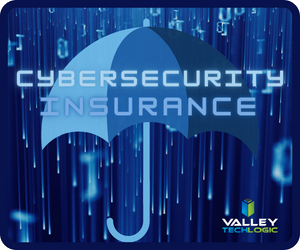 Fill This Out To Grab Your Free Report - INSTANTLY!
Important! We hate spam as much (or more!) than you and promise to NEVER rent, share, or abuse your e-mail address and contact information in any way.
We like Valley Techlogic because… 1.Protection of our system has been the single biggest benefit to us. 2.The range of services that is offered to clients. 3.I would say that all they need to do is try the service and they will not be disappointed. The staff are very knowledgeable, helpful and friendly.
Ivy Dingle
Patients First Medical Center