We get it, handing over any part of your business to someone who's not you can be stressful and unnerving. You painstakingly grew your business to where it is today. You may still be personally vetting every new member who walks through your door.  Hiring technical staff can be an arduous process so it's just made sense so far to learn the ropes yourself to keep devices up and running (and as maintained as possible).
The problem is, you're one person with a finite amount of time. By the time cracks start to show it's often too late, things like server failure or a malware attack can cripple your ability to run your day-to-day operations and fixing it may fall outside the scope of your abilities, making it necessary to bring in emergency help (often at a premium).
If you survived one round of that you may have vowed to find IT help, but even with a clear indicator of why you need it recently at hand it may still seem like a waste of time or money, and you talked yourself out of it. You may have been doing things yourself for years, what are the odds something catastrophic would happen again any time soon?
Unfortunately, pretty good. As the famous quote by Joyce Brothers goes, "If you change nothing, nothing changes."
So, we thought we would give you some food for thought about other reasons (besides potential disaster) you should consider outsourcing your IT: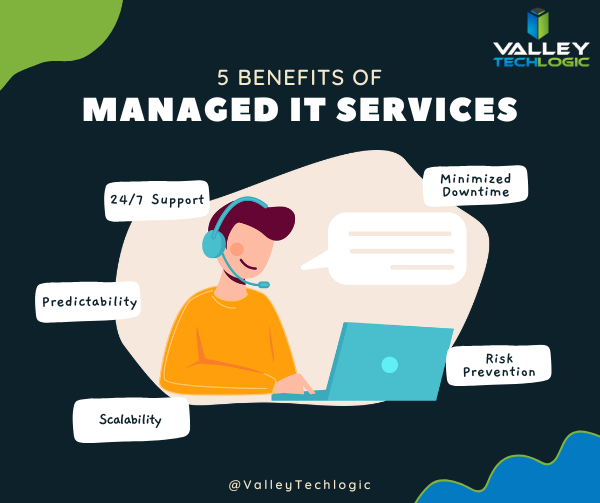 24/7 Support: This one's easy, with a Valley Techlogic service plan 24/7 support emergency support is available to you - at no additional cost and no more late nights for you.
Minimized Downtime: Time is money, and with a service plan from us you will spend less time troubleshooting problems and more time on your business.
Predictability: We utilize best in class software to maintain a consistent technical environment for all of our clients, including managing computer updates, anti-virus software and more.
Risk Prevention: Speaking of anti-virus, our cyber security approach doesn't just help you recover from a cyber threat - it helps prevent one from happening in the first place.
Scalability: This is a big one if you've been doing your own IT. We have service plans to fit both businesses who already have an available IT resource or those who want us to be their primary IT - with flexibility to change if needed
As you can see, many commonsense features are built into all of our plans, but we do offer customization as far as how much or how little we do for your business. If you would like to remain as the primary IT resource, we have co-managed plans so you can still benefit from our solutions and proactive maintenance while still remaining the lead IT person.
If after utilizing us for a while you've reached a point where you would like us to handle it all, we can then change your plan to our "managed IT department" where we are your go to resource for everything IT, your users can even call us if there's a problem and we'll take care of it.
Whichever plan you choose, you'll still always be "in the know" thanks to our comprehensive reporting and annual or bi-annual Technology Business Review (TBR) meetings where we go over how things are going and formulate a plan together to continue improving the service to fit your needs.
Interested in learning more? Schedule a consultation with us today.
Looking for more to read? We suggest these other articles from our site.
This article was powered by Valley Techlogic, an IT service provider in Atwater, CA. You can find more information at https://www.valleytechlogic.com/ or on Facebook at https://www.facebook.com/valleytechlogic/ . Follow us on Twitter at https://twitter.com/valleytechlogic.