Windows 11 officially came out on October 5th and maybe it just us or perhaps it's been overshadowed by other tech news this week, but the release has seemed somewhat unceremonious so far.
Perhaps that's because it wasn't released for everyone. In fact, it's not available for most people.
How will you know if your PC has the upgrade (which is free by the way) available? Well, there are some steps to take first.
Make sure you're on Windows 10, you can only receive the Windows 11 free upgrade if you're already on Windows 10.
Download the free Microsoft Health Check App to see if your device is supported.
Perform a backup of any important files and documents. This is a big upgrade, so you want to make sure your prepared if anything problematic happens during it.
Then head to Settings > Update & Security > Windows Update on your PC.
If the update is available to you, you'll see it in your update section and can perform the upgrade if you wish to but maybe read on first to see if that's a good idea.
For most of us though, the upgrades not available yet and that's probably a good thing. It can take a bit of trial and error following a release, especially on the level a Microsoft operating system releases at, to get the kinks worked out. Many of the promised features are still not available yet and won't be for several months.
Also, for many people their PCs don't have the required specifications for Windows 11. Especially concerning issues surrounding TPM and secure boot.
There's also no rush, Windows 10 will continue to receive mainstream support through October of 2025. Looking at all the features we understand why some are rushing to upgrade ASAP, but for businesses especially a calculated approach to performing this upgrade is a smart idea.
We've talked about the system requirements surrounding making the upgrade to Windows 11 in the past. We've even turned the graphics we made for that article into a side-by-side chart you can print out.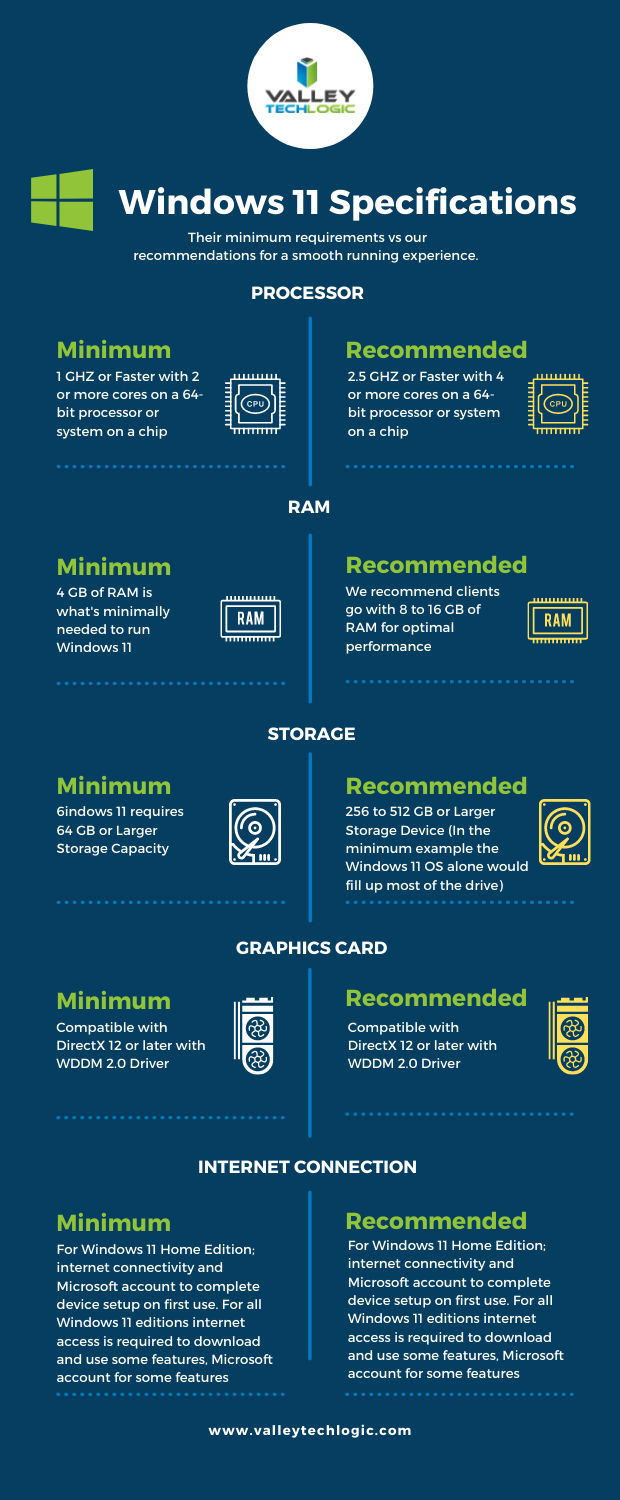 Though the global chip shortage is making it virtually impossible for the average person to easily make a new desktop or laptop purchase at the moment. Even as an IT provider, we're feeling the pinch.
If you're a business owner in the Central Valley and need some advice on upgrading your office computers to Windows 11 (or even to Windows 10) or need help with hardware, we're here for you. Schedule a discovery call today to learn more.
Looking for more to read? We suggest these other articles from our site.
This article was powered by Valley TechLogic, adns, n IT service provider in Atwater, CA. You can find more information at https://www.valleytechlogic.com/ or on Facebook at https://www.facebook.com/valleytechlogic/ . Follow us on Twitter at https://twitter.com/valleytechlogic.