COVID-19 Resources and How We're Keep Your Business Safe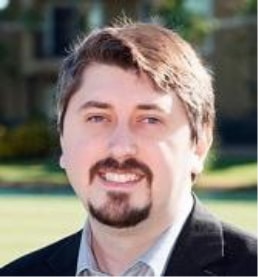 Rory Reed, President of Valley Techlogic, Inc.
A Message to Our Clients and Community:
This is a challenging time for our community and on a larger scale our country. There is a lot of information out there and it can become overwhelming to say the least. That is why I've decided to create this page dedicated to keeping up to date and relevant information on how you can continue to manage your business at this time as well as a list of free or low cost resources that are safe and reliable.
As the leader of a technical company operating out of California for more than 15 years, I feel a strong sense of commitment and responsibility to our wonderful community and the people and businesses that make our great state such a success. If at any time you're looking for help, please don't hesitate to reach out – we're here for you.
To your continued success,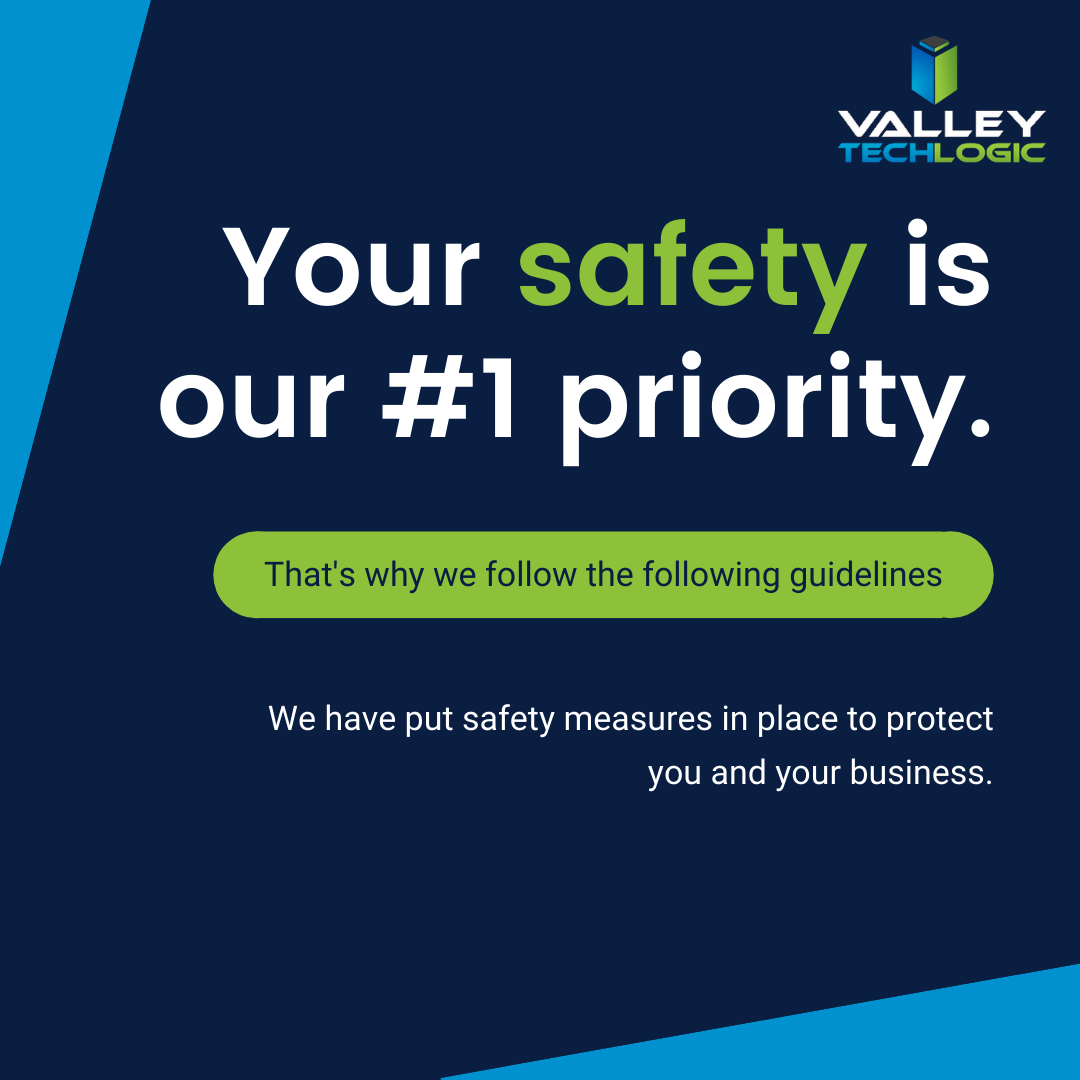 We're committed to keeping you and your business safe, if you're already a client of Valley Techlogic or considering reaching out to learn more about the services we offer we are performing the following safety measures:
For New Clients
We're offering virtual and phone appointments and consultations at this time. We can conduct a presentation of our services virtually for you and any relevant business contacts who may also want to join the meeting. If you'd like to book a no-obligation 10-minute consultation to find out more, you can click here to schedule. Our presentations typically last no more than an hour and we will describe in detail any of the services you may be interested in as well as have accompanying literature for your perusal.
If you would prefer an in-person consultation we are able to accommodate you and will follow the safety procedures as outlined below and in our safety flyer.
For Existing Clients
For existing clients, we are able to conduct most repairs and tasks remotely for your business. Our dedicated dispatcher will route tickets appropriately and if a task or repair must be completed onsite, we will schedule with you according to your schedule and follow the safety procedures outlined below and in our safety flyer.
For Technology Business Reviews and other meetings, we will hold these virtually or over the phone if you desire. If you prefer an in-person meeting, we can still accommodate you and we will follow all of the same safety procedures as mentioned.
Safety Procedures
Our safety procedures are as follows:
Our employees handwash frequently for 20 seconds or more, before and after touching any of your office equipment.
They also carry hand sanitizer if handwashing is not available (such as on an outdoor job site).
We are requesting all employees stay home if they're sick or were possibly exposed to an individual with COVID-19.
All employees have face masks they will wear if they have to visit your office.
It's our experience that many repairs and tasks can be completed remotely, including assisting your remote staff.
Our employees have been instructed to practice social distancing measures.
We also have this flyer available with our safety measures you can download and keep for your records.
Covid Saftety Flyer
We also have this flyer available with our safety measures you can download and keep for your records.
Also, we have measures in place to assist and support your remote employees, here are our tips for managing working remotely.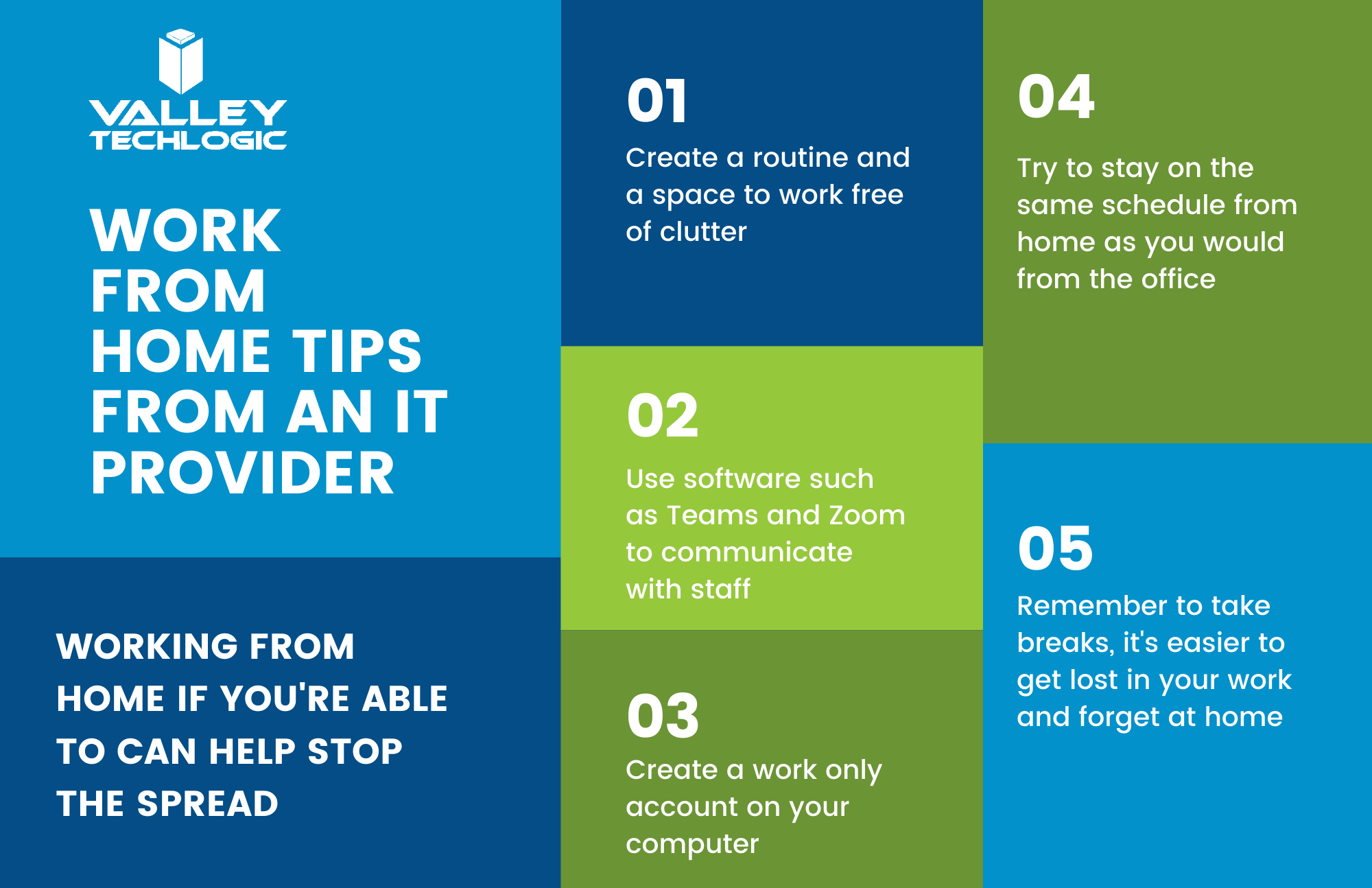 If you're still struggling to get your remote workforce going or have specific concerns for managing your remote work force, Valley Techlogic is here to help.
If you have any questions or concerns as always you can book a consultation with us to discuss them here.
Free Resources