TechVault is the comprehensive backup plan your business needs to thrive.
Backups can bridge the gap between recovering from a data disaster and losing everything.
At Valley Techlogic we think the best backup solution is multifaceted. Onsite, in the cloud, and archival backups are all included in our TechVault plan.
TechVault is a keystone part of our comprehensive service plan packages. The three backup types are as follows: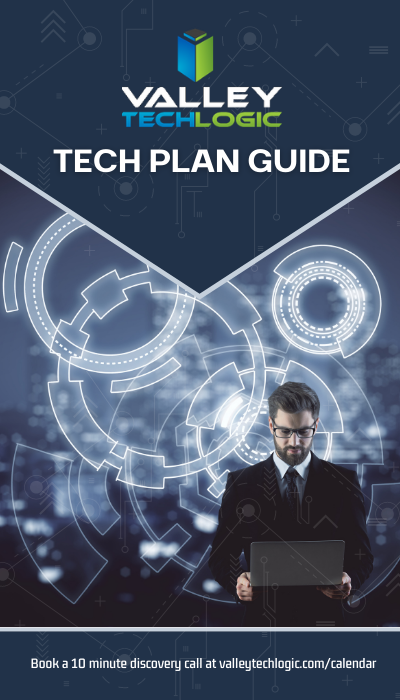 Onsite Backup. . One of your backups will be onsite in your office or even in your own home. This backup is updated every 15 minutes meaning it will have the most current version of your data and it also will be the fastest way to recover and get back to work in the event of data loss on your primary use machines.
In the Cloud. Another backup of your data will be kept in the cloud, this offsite backup will be immune to things that may effect your onsite data - such as natural disasters.
Archival Backup. Brand new, we now offer archival backups. This backup of your data is taken once and stored, and once stored the data is immutable (meaning it can not be changed or written over without extreme effort). This backup will be your best defense in the case of a cyber security event.
Altogether these three backups types form our unbreakable backup plan TechVault. TechVault joins our other comprehensive features such as OfficeGuard for Office 365, phone and VoIP support, onsite support and more. Fill out the form to receive our information packet instantly.
To instantly receive more information about our TechVault plan as well as our other services fill out the form to the right.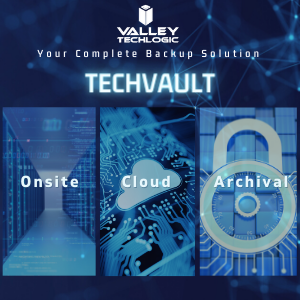 Fill out this form for your information packet.
Important! We hate spam as much (or more!) than you and promise to NEVER rent, share, or abuse your e-mail address and contact information in
any way.
We like Valley Techlogic because… 1.Protection of our system has been the single biggest benefit to us. 2.The range of services that is offered to clients. 3.I would say that all they need to do is try the service and they will not be disappointed. The staff are very knowledgeable, helpful and
...Read More
Ivy Dingle
Patients First Medical Center

"I also looked into another service provider and had some work done by them. It was cheaper when it started, then became more expensive after realizing that the service wasn't properly done. I even had a big problem with their customer service. "Valley Techlogic has been very cooperative when
...Read More
Skip Vierra
Central Counties DHIA