We want to show you how great our technicians and service are.
For qualifying businesses we're offering 2 hours of technical service absolutely free.
You might be wondering, what can we fix in 2 hours? Here are a few ideas:
Have an office program that's not running the way it used to?
Is one of your office devices malfunctioning?
Is your office server overdue for a checkup?
Is your software up to date on your systems?
Are your backups functioning as they should?
Maybe it's something we haven't thought of, just let us know and we can take a look (either remotely or onsite - your choice).
We're confident after experiencing the service standard we have at Valley Techlogic, you will be interested in learning more about our service plans.
You may be thinking, what's the catch?
There's no catch or commitment. You can try us out for free without signing up for anything ahead of time.
Our technician will schedule a time that's convenient for you and work on the task you assign them, if it's something that that requires a follow up we will let you know or offer our expert opinion.
If after the work is completed you're interested in learning about our plans (that all include 24/7 technical support) we will be happy to setup a time to offer a recommendation on the Valley Techlogic plan options that will best support your business.
Simply Fill Out The Form On This Page To Get Started and Claim Your 2 Hours of Service Today!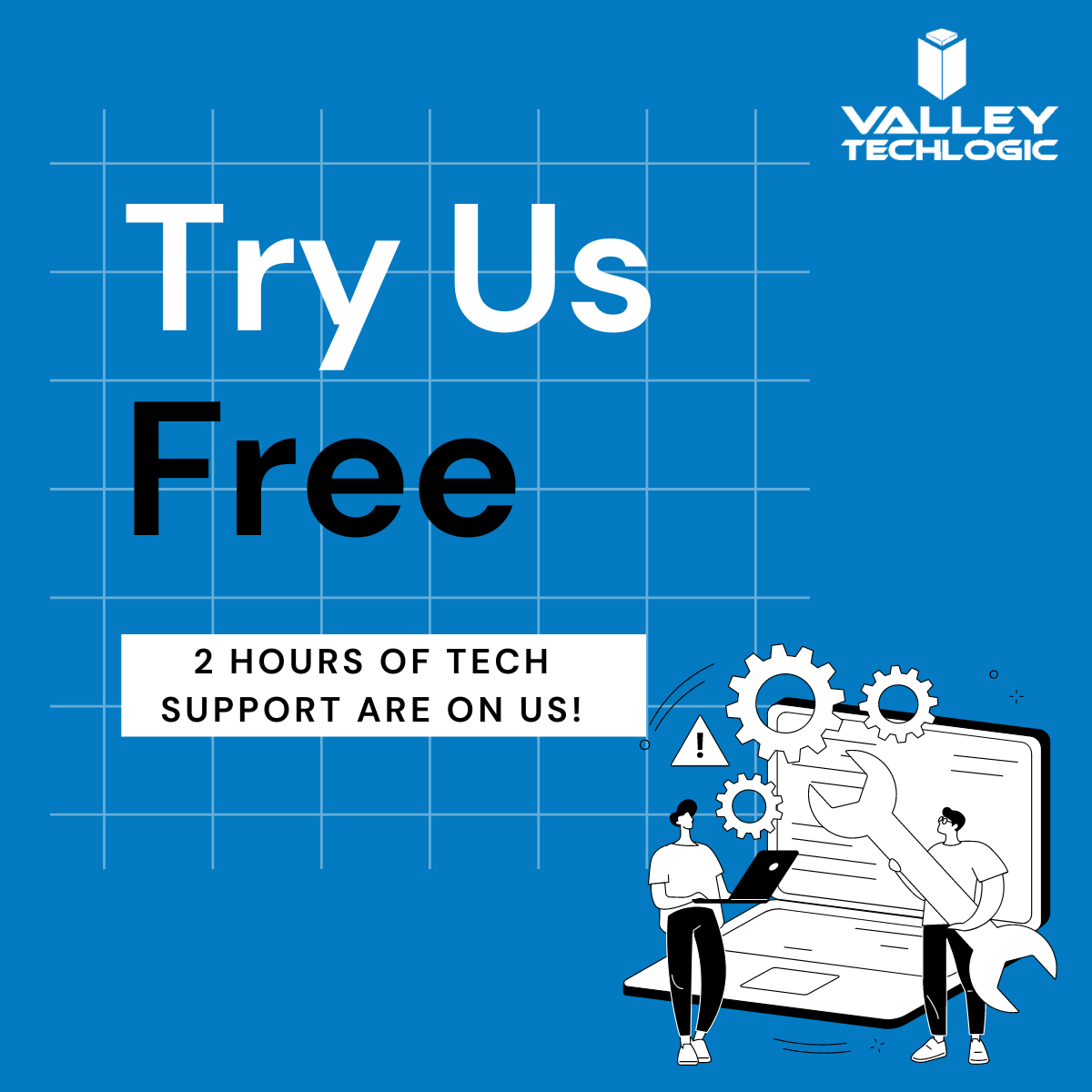 Sign Me Up 2 Hours of Service - Free!
Important! We hate spam as much (or more!) than you and promise to NEVER rent, share, or abuse your e-mail address and contact information in any way.
We like Valley Techlogic because… 1.Protection of our system has been the single biggest benefit to us. 2.The range of services that is offered to clients. 3.I would say that all they need to do is try the service and they will not be disappointed. The staff are very knowledgeable, helpful and friendly.
Ivy Dingle
Patients First Medical Center