We've been on a roll lately discussing the changes and products being rolled out by Microsoft this year, primarily Windows 11 which should be launched this fall. Last week Microsoft announced a price increase to their ubiquitous business products, Microsoft 365 and Office 365.
Office has been a business staple since it's launch in 1989 (although Word predated the Office grouping of products quite a bit, launching in 1983). The original launch set was Word, Excel and Powerpoint but the product line up has exploded since then including other must-have features such as Outlook, Teams, OneDrive and more. For many business users the Office suite of products is their go to collaboration and productivity center.
Microsoft 365 was announced in 2017 and aimed to take things up a notch and out of just the business productivity center of activity, bringing many Windows specific cyber security features to the table as well as expanding the usability for remote employees.
It also expanded the ease at which IT administrators can manage their office's users in a Windows centric environment. The outcome was an all-in-one platform for business users especially that brought functionality, safety and security, and collaborative work processes together in unison all for one easy to budget for monthly fee.
But as with many online services, fee increases are to be expected (remember when Netflix was just $7.99 a month for the standard package?). Microsoft however has bucked this trend for quite a while, pricing has been the same since Office 365 was launched in 2011.
In that time, they've added untold value in the way of product innovation all for no increased monthly fee, so this price increase is both expected and possibly overdue. It's also expected to be just a few dollars more for each product category, so you won't need to worry about a drastic price hike. Have a look at our chart below to see what to expect.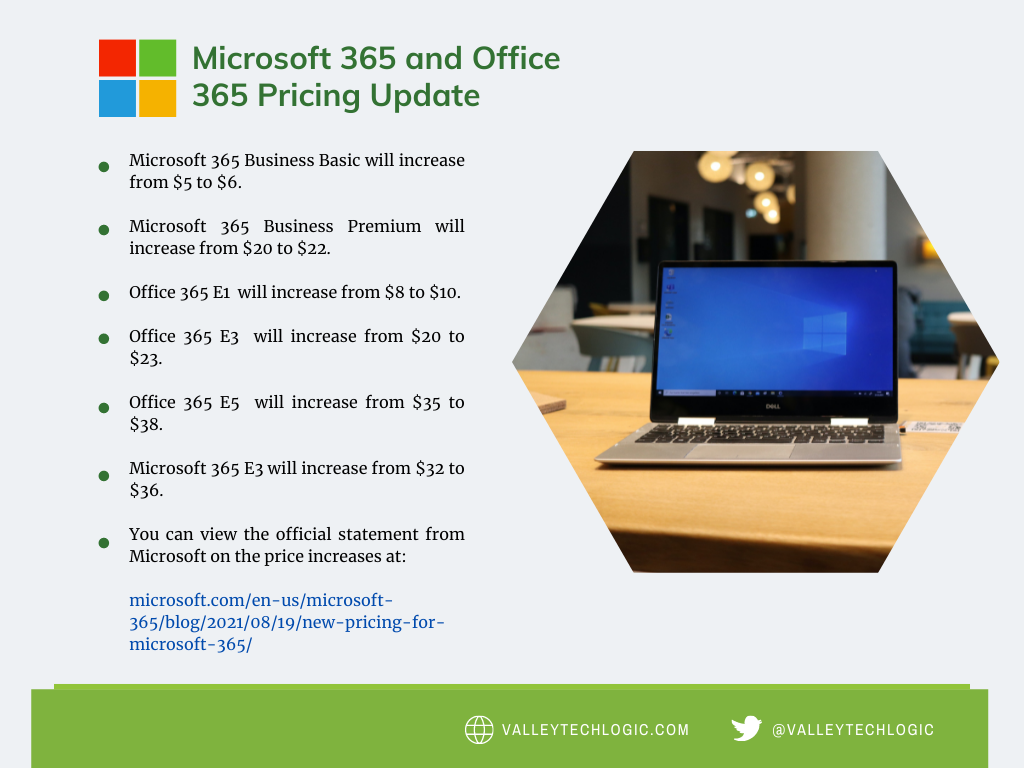 As you can see the price increases are moderate and shouldn't result in a drastically higher overall IT bill for most users. If you're in the education sector you won't have a price increase at all, and consumer products will also stay the same price at this time. These price increases are expected to go into effect March 1, 2022.
One thing that's worth mentioning is the program Microsoft has for non-profits, if you own or operate a non-profit organization you can receive your Microsoft products at a deeply discounted rate. This includes Microsoft 365 and Office 365 subscriptions. We have helped our non-profit clients navigate this in the past to great success, if you're a non-profit in the Central Valley area feel free to reach out to us for more information.
We also assist businesses with their questions when it comes to the Microsoft line or products or their Windows desktop and server machines, we're a long time Microsoft partner and consider ourselves experts when it comes to navigating even the most complex setups. We even include the subscriptions we discussed in today's article within our all-inclusive plans to reduce our customers IT spending to one easy to read monthly bill. Find out more today.
Looking for more to read? We suggest these tech articles from the last week.
This article was powered by Valley TechLogic, an IT service provider in Atwater, CA. You can find more information at https://www.valleytechlogic.com/ or on Facebook at https://www.facebook.com/valleytechlogic/ . Follow us on Twitter at https://twitter.com/valleytechlogic.