As we approach Fourth of July weekend, reduced COVID era restrictions have made travel feasible (and desirable) for many across the US for the first time since spring 2020. We all might be a little rusty when it comes to internet safety on the go or maybe you're looking for tech tips that will make traveling easier? Well, we have you covered.
Traveling and using your devices away from your home or office network carries some risks. Here are 5 things you should do before you travel to protect your devices.
While traveling sometimes you can't avoid using a public network, but one good way to protect your device is to make sure it's been fully updated. That way it will be slightly safer when using less secure networks (although it's still a good idea to avoid it if you can).
Another good bit of advice is to make sure you have strong passwords, and to have a password manager setup and ready to go on the device you'll be traveling with.
One tool for traveling and using risky public networks is to enable a VPN, a VPN will help shield your data.
You should also avoid logging into websites that contain important data, like your email or banking website on a public network.
Finally, another good tip if you haven't done so already is to set up "Find My Phone" on your mobile device. This will allow you to remotely wipe your mobile phone if you were to lose it while traveling (or possibly even find it if it's still nearby).
If you're already on the road or away from home, we also have these 5 tips for making your travel easier with technology:
Power banks are a must have while on the go, having a fully charged power bank on you will make sure you can charge your phone if the battery is low while you're out and about.
RFID blocking bags can help protect your personal information from intrusive scanning, especially for things like your credit card.
Save pictures you take with your mobile phone automatically to the cloud with a service like Google Photos or Amazon Photos (the pricing for these products is very reasonable as well).
A tip specifically for iPhone users, you can update friends and family on your airline travels just by texting them the airline and flight information. Texting "American Airlines 425" will allow them to tap and automatically see a flight tracker with the flight information. Handy!
Looking for more legroom in your return flight home? Search SeatGuru to find the best seat on a particular flight.
Company travel is a different can of worms, especially when it comes to securing your office devices while on the road. At a minimum, we recommend enabling 2-factor or multi-factor authentication for company devices – especially those that are used on the go. For Microsoft 365 users, it's easy to setup multi-factor authentication. Here are the steps: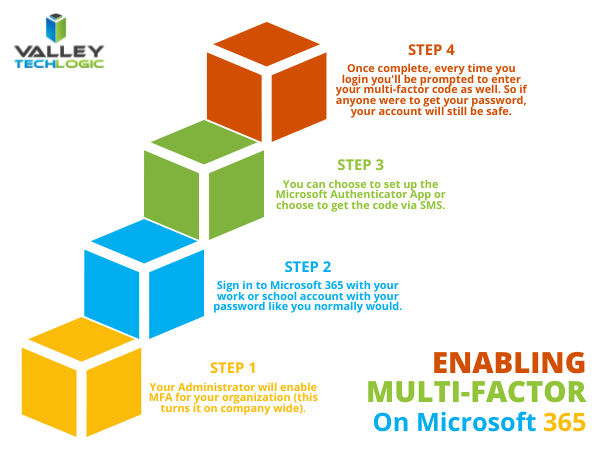 If your office needs help setting up multi-factor authentication for remote and traveling employees, Valley Techlogic would be happy to assist. Tell us more in a quick consultation.
Looking for more to read? We suggest these other articles from our site.
This article was powered by Valley TechLogic, an IT service provider in Atwater, CA. You can find more information at https://www.valleytechlogic.com/ or on Facebook at https://www.facebook.com/valleytechlogic/ . Follow us on Twitter at https://twitter.com/valleytechlogic.