If you've realized you need additional IT support for your business but are on the fence about which route to take, hiring IT staff or outsourcing your needs to an IT service provider the choice can be difficult.
Many of our clients reach us because they have been using an unreliable IT support service, their existing IT staff left, or sometimes because they've somehow gotten by with no IT at all but realize that needs to change.
We also frequently have clients who are utilizing a person in their office who is "tech savvy" but is not IT, it can be quite expensive to hire an IT professional with the experience needed to perform the variety of duties needed work on items such as cybersecurity improvements, hardware upgrades, software deployments and more.
Here are some benefits of hiring in house IT staff:
They're already at your office so there's no waiting for IT support to show up.
They will be well versed on your systems since in many cases they will be the one who set them up in the first place.
They should be pre-emptively taking care of updates that will keep your business more secure.
On the other hand, here are the benefits of outsourcing your IT:
The cost is usually much lower than hiring personnel.
You get many experts for one price, no matter how well versed your IT person is they can't be an expert in everything.
You get software tools that may be otherwise unavailable to a single business or not cost effective to purchase.
Round the clock service and monitoring, many IT service providers including us offer 24/7 support.
You will have an agreement with them that spells out the level of service you're supposed to receive.
It's a difficult choice and only you know whether your business would greatly benefit from having in-house staff or whether outsourcing your IT is your best option. As you weigh your options we created this chart with the average baseline cost for an in-house IT person vs. an IT service plan with us.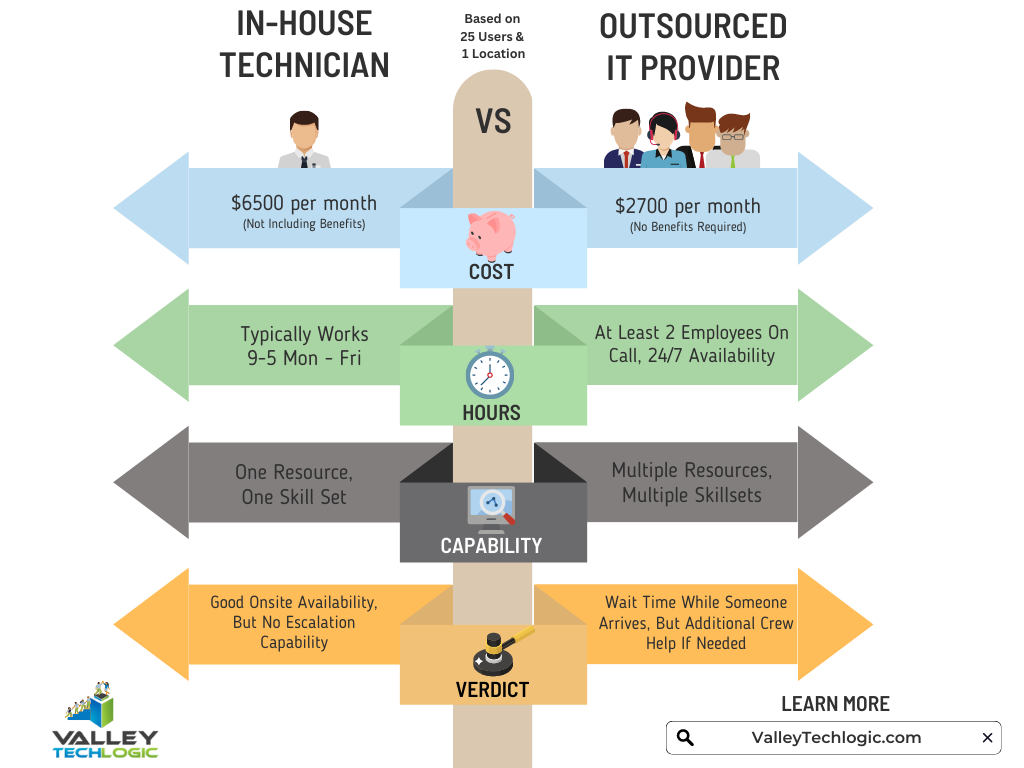 However, as we mentioned many of our clients are utilizing an in-house resource already, these tech savvy staff are usually performing the day-to-day activities such as patching and password resets but may be missing crucial items such as cybersecurity prevention or maintaining (or even starting) backups.
For clients like these we recommend our co-managed plan option. With our co-managed plan we work directly with the staff already performing your IT duties, if there's an issue they call us directly and we pass on a cost savings to you.
We do that because usually by working with a staff member that already knows your systems we can bypass a lot of the early troubleshooting that occurs, and that staff member usually still handles minor day to day tech related activities.
If you would like to learn more about our co-managed plan options just reach out today for a consultation.
Looking for more to read? We suggest these other articles from our site.
This article was powered by Valley Techlogic, an IT service provider in Atwater, CA. You can find more information at https://www.valleytechlogic.com/ or on Facebook at https://www.facebook.com/valleytechlogic/ . Follow us on Twitter at https://twitter.com/valleytechlogic.