Now as a provider of outsourced IT we're considerably biased, but we also know the value outsourcing some or all of your IT can provide to your business. We wanted to touch on the top reasons you should consider utilizing outsourced IT in your business.
First though we would be remiss if we didn't go over the variety of outsourced IT available on the market. From a single person who helps on a contractor like basis to full scale operations that are the same as having an entire IT department, the differences in what's out there is vast and there's something available for every business.
To decide on what variety is right for you, you need to consider what your businesses needs are. Do you already have an IT team and just need some additional assistance with routine tasks hamstringing your business currently? Are you utilizing the "a wish and a prayer" model by having no IT at all? NOT a good idea by the way.
We developed this chart to help businesses figure out what kind and what level of outsourcing they may need.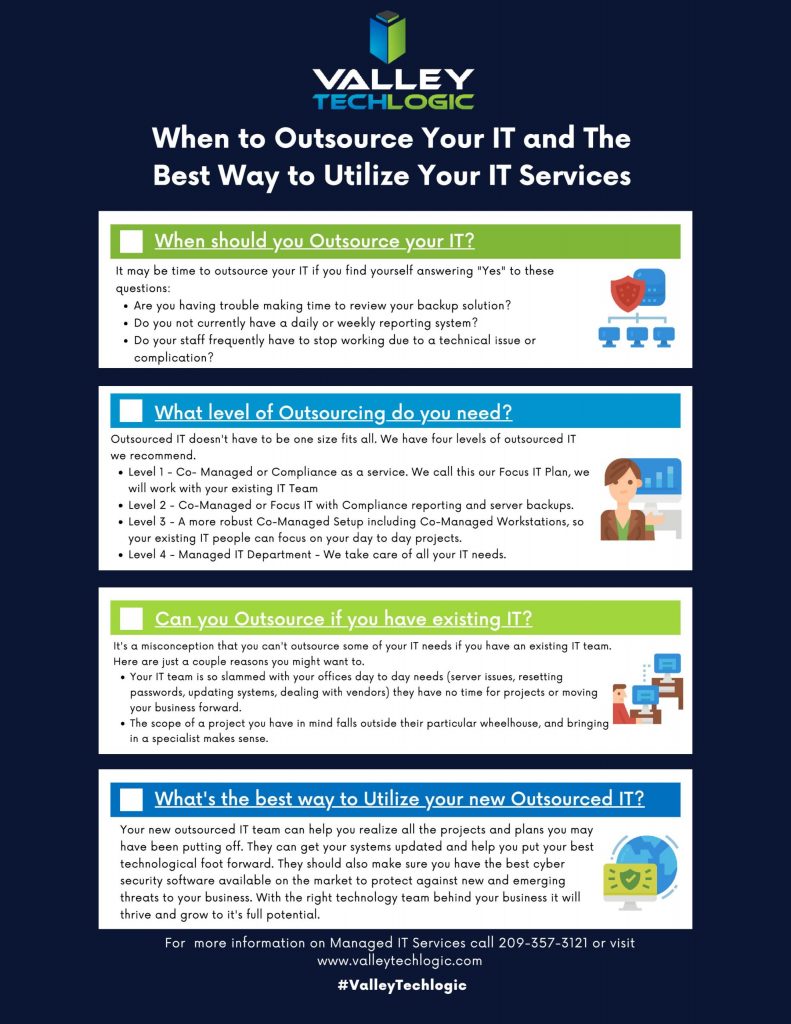 In addition to our chart here are 5 examples of how outsourced IT can bring your business to the next level.
Is the cabling in your office currently a nightmare? Do you walk into the server closet and find yourself wondering if it's up to code or perhaps even a fire hazard? This is one project no one wants to tackle but once it's done, you'll wonder how you went so long without it.
Your IT team is great, but they're so bogged down with the day to day minutia they don't have time to bring your business to the next level. Do you have upgrades that have been on the back burner forever? Or perhaps they just don't have time to maintain your backups as well as you would like. Outsourced IT can fill in the gap and give you the footing you need expand your business.
Remote IT, setting this up right can feel like an impossible task. Maybe your workers are regularly stuck unable to do their job due to login issues, or you just aren't sure how to approach the topic of cyber security with your employees working from home. Outsourced IT can be the extra hands you need to get it going right.
Perhaps you've been telling yourself, who needs IT? You've gotten by this far without it. We're sorry to say, that's just luck, and you don't want to hang your business on continuing to stay lucky.
Training new IT staff is difficult and expensive, with an experienced IT provider you don't need to worry about that and can instead focus on your core business.
This is in no way an exhaustive list of all the ways we think outsourcing IT could be a smart choice for your business. One thing we do want to mention is to vet the company you choose to outsource to carefully, you're trusting them with your data and network after all.
Choose a company with good reviews and references and one that guarantees the work they do. Also, if you're thinking about switching IT providers it's okay to vet the new company before letting the old one know you'll be moving on.
If you need more advice or assistance on this or other technology topics, reach out! At Valley Techlogic we're here to help.
Looking for more to read? We suggest these tech articles from the last week.
This article was powered by Valley TechLogic, an IT provider in Atwater, CA. You can find more information at https://www.valleytechlogic.com/ or on Facebook at https://www.facebook.com/valleytechlogic/ . Follow us on Twitter at https://twitter.com/valleytechlogic.
Looking for IT Services in Fresno, Modesto, Stockton, Ceres, Atwater, Merced, Visalia or Lodi? We cover all these areas and more!