Windows 11 arrived this year to a somewhat muted response that mostly can be attributed to a tempered rollout – many machines that would have been eligible for a Windows software upgrade in the past were deemed not eligible for the enhanced requirements found in Windows 11. The end-of-life date for Windows 10 is still a way off (October 14, 2025) but a surprising number of people are still using Windows 7 which had it's end of life event over two years ago now, on January 14th, 2020.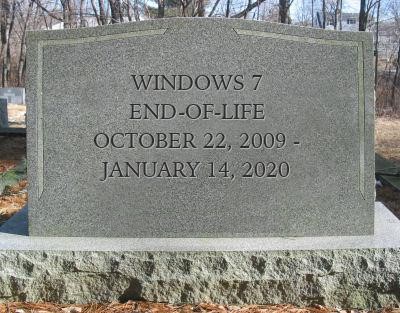 However, according to GlobalStats Windows 7 still has an almost 12% operating market share. While many of those are probably unused machines that still equates to a large percentage of Windows 7 users over 2 years past it's end of life date.
When an operating system is discontinued by Microsoft that means they stop providing support and updates for it, including security updates that protect users from ongoing threats. Even the FBI has strongly warned against continuing to use Windows 7 as it can make you an easy target for cybercrime.
It can be challenging to move away from a system you know well and at this point upgrading probably means also purchasing new hardware, which during the microchip shortages exacerbated by the pandemic could be no small task (or expense). However, there are deals to be had on hardware now in 2022.
It can be also difficult to find software that's supported on an older operating system as updates are made to make them compatible with the latest generation of operating systems.
We know that for some of our clients it's actually the reverse, they're utilizing a line of business software that no longer is being maintained or updated by the provider, but it still functions for their business. The caveat being they must use it on an older machine that hasn't been updated.
There are several inherent risks to this, including the first one being that that machine is an obvious choice as a threat vector for would be bad actors. The tenuous relationship between that software and the hardware that deploys it is also ripe for failure the longer you wait to replace it. Securing older hardware to be able to continue to use a discontinued line of business software will also be a significant challenge as time goes on.
We've touched on comfort and convenience between prime motivation to continue using an unsupported operating system, but there's also the technology challenge of deploying new hardware and software within your business. A major rollout is best left to the experts who can smoothly retrieve the data from your devices and help you make the transition to newer hardware.
At Valley Techlogic, we can even help you with procuring that hardware and making the best software choices for your business. This includes servers as well. Here is a list of the next 5 Windows end-of-life dates that you should be keeping an eye out for.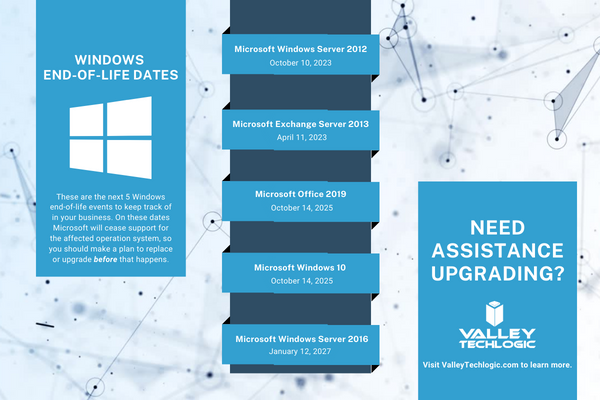 If for some reason you just can't part with an outdated operating system at this time, here are three tips that will make it slightly safer until you are able to replace those devices:
Make using an anti-virus and firewall a priority. This won't offer you complete protection as many threats will seek to undermine the unsecured status of the device, but it's better than being completely unsecured.
Login to important accounts from another device if possible. We would not suggest logging into sites such as your banking website from a device this far out of date from updates.
Utilize network-based mitigation strategies. This is again not foolproof strategy but separating your Windows 7 or other end-of-life devices from the rest of network will offer a slight buffer in the event the device(s) are compromised.
Need assistance migrating away from devices that have reached their end-of-life date? Valley Techlogic can help, we're a certified Microsoft partner and experts in all things Windows. Reach out to us today for a quick consultation to learn more.
Looking for more to read? We suggest these other articles from our site.
This article was powered by Valley Techlogic, an IT service provider in Atwater, CA. You can find more information at https://www.valleytechlogic.com/ or on Facebook at https://www.facebook.com/valleytechlogic/ . Follow us on Twitter at https://twitter.com/valleytechlogic.