The holiday season is upon us and with Thanksgiving around the corner many are anticipating doing some holiday shopping the day after during Black Friday.
In previous years stores seemed to open earlier and earlier, creeping into Thanksgiving itself to allow buyers who really wanted those deals to snatch them up before their competition (if they were willing to sacrifice some time with family). Many felt this was unfair to employees and with the pandemic that activity has been scaled back so now most businesses are closed on Thanksgiving.
That doesn't stop you from shopping on Thanksgiving if you want to however, with online buying growing in popularity year over year "Black Friday" sales occur all over the internet at a wide variety of retailers – and even a wide variety of dates outside of the traditional day after Thanksgiving.
Still, the main event is typically when the best sales occur with retailers holding back their "door buster" items until midnight on Friday as they do in traditional retail spaces.
If you're going to be hitting up those sales this year we have 8 tips for safer shopping online while you do so, and two bonus tips related to getting the best deal while you're at it.
Make sure the URL is what you expect it to be. Phishing emails may try to take advantage of those looking to get a good deal by misdirecting you to a site with a similar URL that can collect your payment information. Look for any misspellings such as Paypale or Wallmart instead of Paypal and Walmart.
The same goes for products that may be found on multiple vendors. Hint, no one is going to sell a top of the line laptop for $25. If a price seems like it's too good to be true, it probably is.
Even if the website is legit, the product might not be. Sites like Amazon or Ebay allow private vendors to sell on their site, and this sometimes includes scammers. Look out again for pricing that seems too good to be true or product reviews that don't match the product you're trying to buy.
Also read the small print. You want to make sure you're buying that Xbox you've been looking for, not just the box it comes in.
As always, watch out for popups. If you're browsing for a specific product a loved one requested you may hit sites that try to scam you with malicious software delivered via popups. Letting your browser block all popups unless specifically allowed is a good idea.
Make sure the website is HTTPS not just HTTP. HTTPS is a layer of encryption that protects your payment information when checking out through a website.
If you're buying from a vendor you've never purchased from before, keep an eye on your bank or credit card account. You want to catch any potentially suspicious activity early so you can report it.
Also look for online reviews. Using Trustpilot or just doing a Google search before buying is a good idea, it will help you avoid scams and retailers that are a nightmare to deal with.
Bonus Tip: Use a browser extension like Honey or one your credit card or bank account offers to automatically apply coupons or even get cashback on purchases. Searching for coupon codes is a hassle, however do keep in mind they're offering you these discounts in lieu of information on your purchase making habits.
Bonus Tip: For Black Friday specifically you can see the deals major online retailers will have ahead of time in the circulars collected by com . That way you can strategically plan your online shopping before the clock hits midnight this Friday.
Speaking of Black Friday, if you have been in the market for technology services for your business then look no further. We're offering the best deal we have ever offered for new customers. In our last blog we listed four reasons to consider a service plan with Valley Techlogic. Here are four ways we will make switching easy in 2023.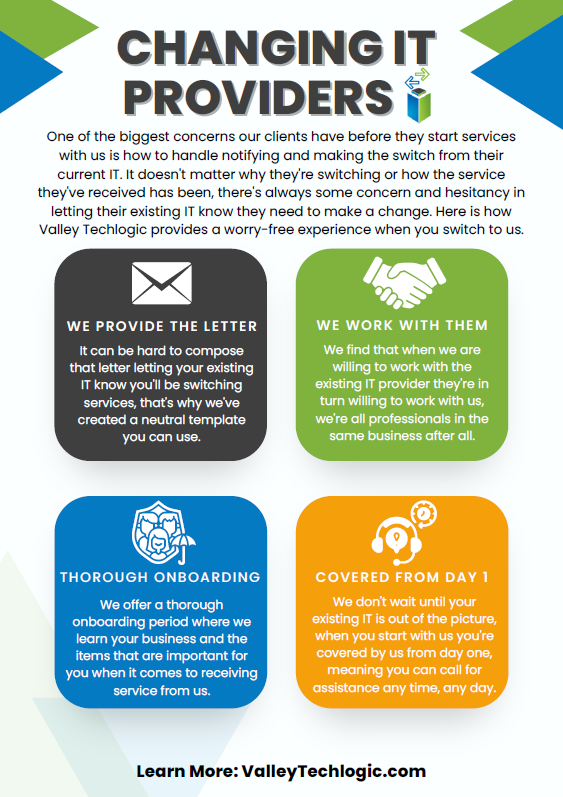 Learn more about taking advantage of our Black Friday sale today.
Looking for more to read? We suggest these other articles from our site.
This article was powered by Valley Techlogic, an IT service provider in Atwater, CA. You can find more information at https://www.valleytechlogic.com/ or on Facebook at https://www.facebook.com/valleytechlogic/ . Follow us on Twitter at https://twitter.com/valleytechlogic.