Google began requiring 2-factor authentication on some user accounts this past year, and while there's always some inconvenience involved in making that switch the benefits definitely outweigh it.
Google enrolled 150 million members in the last three months of 2021 in their 2-factor authentication program, and they've found that instances of accounts being hacked dropped by half for those users.
Google utilizes two-step verification, or 2SV which involves having a login challenge beyond a simple password entry. This may be a message in Google's own authenticator application or a hardware security key depending on user preference.
Google said in their blog post on the topic, "This decrease speaks volumes to how effective having a second form of verification can be in protecting your data and personal information, turn on 2SV (or we will!), as it makes all the difference in the event your password is compromised." Indicating Google's plan to initiate the requirement across the board in the near future.
The hesitancy with users to utilize such an effective security measure seems to stem from inconsistent implementation as well as a general lack of education on the topic. We thought it would be helpful to present this "cheat sheet" on multi-factor authentication and other cybersecurity acronyms.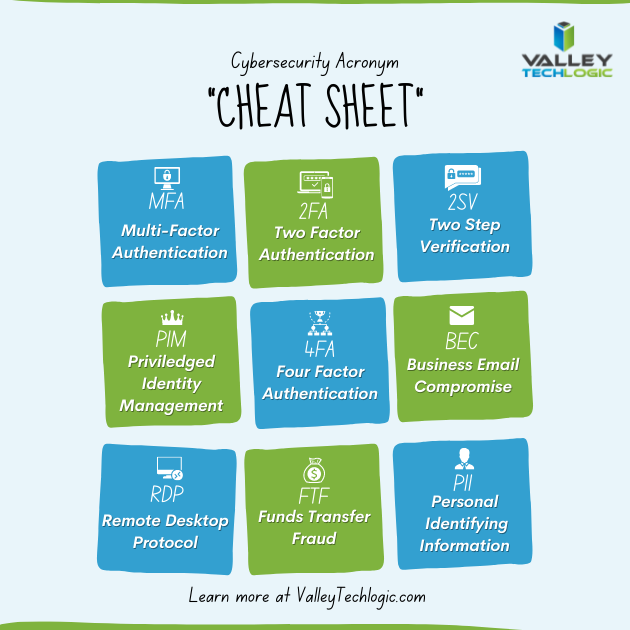 With breaches being ever more common, having that additional step past just a password before a hacker can access your account can make all the difference. A password you use across multiple website (which is also a bad idea) may be leaked without you even being aware of it, and the prompt from a multi-factor authentication application may even be your first clue that your accounts are being accessed by someone other than yourself.
Google's own authenticator is found on the Play Store and the Apple App Store and is a solid option, however we suggest users use whatever they feel most comfortable with or whatever is offered by the the websites they frequent (especially for important sites like banking or for work related web portals).
To add to your security effectiveness, we suggest using a password manager as well so you can work on having more varied passwords – especially for sites that don't currently offer multi-factor authentication as an option.
If you'd like tangible security, hardware security keys are a good option and many of them have widespread support for your online accounts such as email, social media, or even your password manager (adding another layer).
Your devices also probably come with multi-factor security options built in, we've been pleased with the implementation of Windows Hello for Windows devices (even when we're bleary eyed in the early morning, it always seems to recognize us). Fingerprint scanners for mobile devices have also come a long way and is a pretty convenient (and secure) way to keep access to your phone limited to just you.
If you're a business owner in the Central Valley and want to embark on the process of enabling multi-factor authentication within your business, Valley Techlogic can help. Our security experts can help you with enabling multi-factor authentication within your business as well help you meet your cybersecurity compliance goals. Reach out to us today to learn more.
Looking for more to read? We suggest these other articles from our site.
This article was powered by Valley TechLogic, IT service provider in Atwater, CA. You can find more information at https://www.valleytechlogic.com/ or on Facebook at https://www.facebook.com/valleytechlogic/ . Follow us on Twitter at https://twitter.com/valleytechlogic.