The term "skills gap" has been popping up a lot lately and in a nutshell it's the refers to the difference between the skills your business needs from its employees and what's actually available in the marketplace.
Tech innovations occur so rapidly it would be impossible for any one person to be a master in everything that's required to maintain the technology in most modern workplaces, there will always be a need to seek out assistance with some component of it whether it be through outsourced help or through automation – or both.
In a survey by Monster nearly one third of employers agree the skills gap has been growing, and it's effecting how they're sourcing and employing candidates. With inflation on the rise employees are also seeking greater compensation for highly in-demand skill sets, which from a budgetary standpoint may be difficult for many employers to grapple with.
It may be advantageous for employers to offer compensation or incentives to existing employees to increase their existing skillsets or "reskill". With the many hurdles found in hiring qualified candidates in the current working environment, retention will be a key factor in many businesses being able to stay afloat.
Automation is another component hiring managers are looking towards, especially in the world of tech.
Backing up data: If you're a Microsoft 365 customer, backing up your device data is easy with OneDrive.
Email Signature: Still typing your name at the end of every email response? It doesn't take very long, but across dozens of emails per week it can add up. Setup an email signature in Outlook (with a new email open go to Insert > Signatures) and save that little bit of time with every email.
Paying Bills: Still making manual payments? Why? Setup automatic payments where you can and skip logging in and making that manual payment every month.
Typing Passwords: Not only does typing in a password for everything waste valuable time, it also creates a security risk because an easy to remember password is also potentially an easy to crack password. Try using a password manager like LastPass to create stronger passwords and save time.
Of course, there are much more advanced automation services available to assist your business, but many will require at least some initial tech know-how or even an on-hand technician available to maintain them.
The skills gap is also affecting those who rely on short-term technical help to bridge the gap, during a time when it seems like the price of everything is going up so to, is the cost of hiring emergency technical support. Especially when it's required afterhours.
If after reading this you're wondering what your best option is, trying to hire someone or relying on expensive emergency support we do want to provide a third option – outsourced IT.
We're not unbiased here, but hiring outsourced IT does have a number of benefits in the current hiring climate that you may not have considered. See the chart below for examples: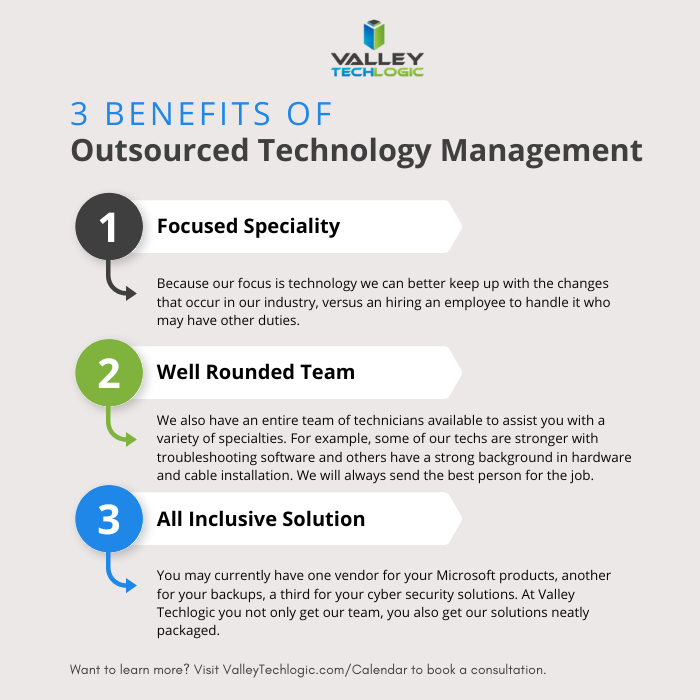 Interested in learning more? Schedule a consultation with us today.
Looking for more to read? We suggest these other articles from our site.
This article was powered by Valley Techlogic, an IT service provider in Atwater, CA. You can find more information at https://www.valleytechlogic.com/ or on Facebook at https://www.facebook.com/valleytechlogic/ . Follow us on Twitter at https://twitter.com/valleytechlogic.