If you use VoIP in your business, you may have been affected by service outages so far this week.
That's because Bandwidth.com, a major hosting provider for VoIP services such as Accent, Ring Central, Twilio and more has been under assault by a major distributed denial of service (DDoS) attack. While they're working tirelessly to reroute call streams, as of Tuesday outages were still occurring nationwide.
Distributed Denial of Service (DDoS) attacks are not a new occurrence in the VoIP world, hackers regularly target VoIP services in an effort to gain a ransom to make the attacks stop. Canadian VoIP provider, VoIP.ms, has been under siege since last week by a DDoS attack being performed by the hacking group REvil.
REvil, a Russian linked ransomware gang, was also responsible for the attacks on Kaseya that made major news in July. They are demanding $4.5 million from VoIP.ms to end the attacks but so far VoIP.ms is holding firm and not giving in to the demands.
You may be wondering what happens during a Distributed Denial of Service (DDoS) attack or even what a DDoS attack is. During a DDoS attack hackers flood the target networks with service requests, bogging down the systems until they either slow to a crawl or go offline completely due to the overload.
To put some context behind it, Cloudflare a cybersecurity oriented service provider that helps websites mitigate DDoS attacks were themselves hit by a DDoS attack last month that served their website 17.2 million requests per second. The real target of the DDoS attack, a financial customer of Cloudflare, was served 330 million attack requests in seconds. Most websites and online servers cannot bear the brunt of that many requests instantaneously.
VoIP providers are an easy target for ransomware, cutting off communications to the outside world for those who are affected is a tangible problem that creates a heightened sense of urgency. The same urgency cannot be replicated from your business's website being down for a while, though the loss of revenue that may occur from that should not be overlooked. For some business's that loss can equal as high as $250,000 hourly.
You may be thinking, I can't have my phones go down I'll just switch back to a landline provider even if the cost is higher and it would lack many of the features acquired with VoIP. I'm sorry to say It would do you no good.
Nothing is truly cut off from the web these days, even your typical landline phone utilizes a web-based connection somewhere down the line. POTS aka Plain Old Telephone Service which performed phone services over copper wires is going the way of the dodo in most places.
The FCC even called for a mandatory termination of POTS lines In 2014. As of 2018 only 5% of the country was landline only.
To sum it up, avoiding the internet when it comes to making phone calls is no longer a possibility. With that said we understand that having your phone lines down is disruptive and unnerving. We've created this checklist with steps to take if you find your phone service down.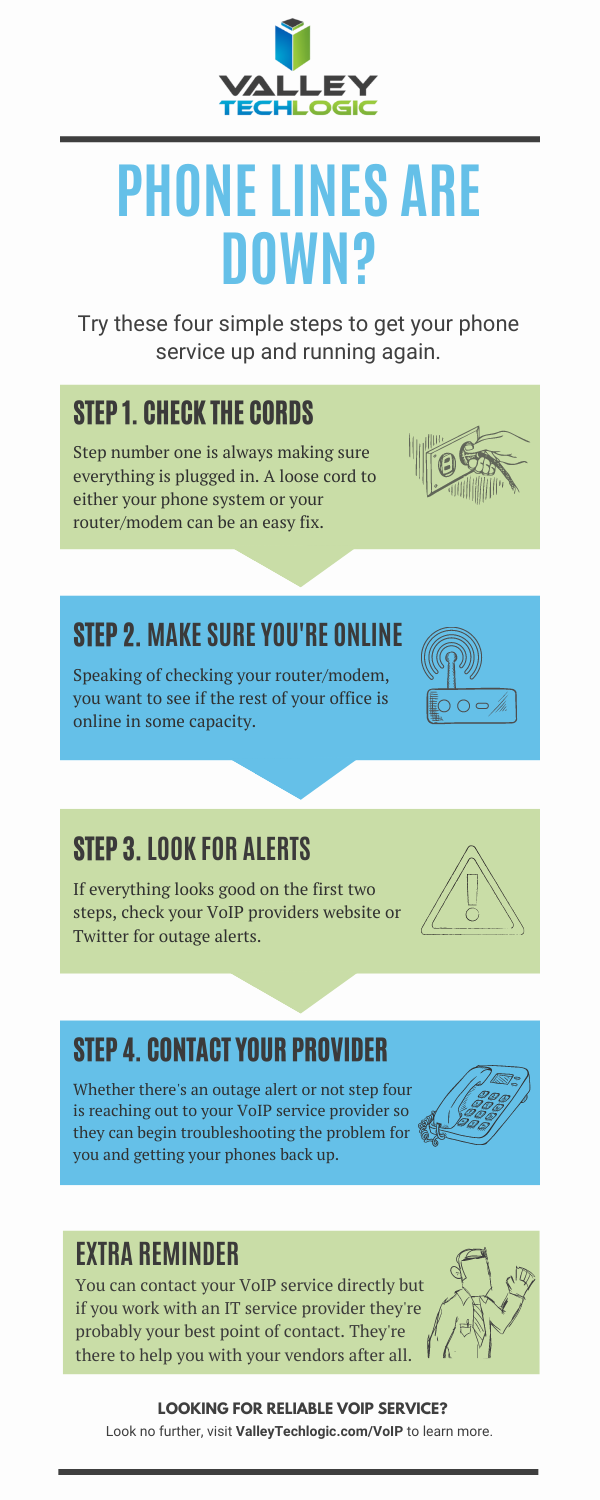 If you don't have a service provider to reach out to in the event of a service outage, we can help. We are proud of our VoIP service solutions and the reliable uptime we maintain for our clients. You can learn more about our VoIP services here. We even have a promotion for new customers. 😊
Looking for more to read? We suggest these other articles from our site.
This article was powered by Valley TechLogic, an IT service provider in Atwater, CA. You can find more information at https://www.valleytechlogic.com/ or on Facebook at https://www.facebook.com/valleytechlogic/ . Follow us on Twitter at https://twitter.com/valleytechlogic.