Our manufacturing clients often rely on custom software to run their business, MRP or Material Requirements Planning software covers items such as making sure materials are available, ensuring the product is ready for delivery and just overall inventory planning.
ERP or Enterprise Resource Planning software builds upon the existing functionality of ERP software but scales it to include managing operations, finances and staffing as well. While MRP software is normally standalone ERP software usually functions as a stack of applications that communicate with each other for better oversite of your manufacturing business's operations.
Some of our clients rely on custom MRP software but most ERPs look to eliminate the need for that, the downside of custom MRP software is it's often tied to and customized for the system type it was created so upgrades to the operating system of a device can present a roadblock (and a security hurdle).
MRP software also Isn't usually not very customizable, it's built with one purpose and it won't be able to grow and change as you do. ERP software solutions are more expensive but will probably include updates from the distributor and be more modular and customizable overall since it's meant to fit a variety of operational needs.
For simple stock and order management an MRP may be all you need but as your business grows it may be best to look at a comprehensive ERP solution to allow your entire team to work under one umbrella, from accounting to project management. It's also helpful if your production planning has outgrown your existing MRP software.
Here are two charts that explain how MRP works vs ERP: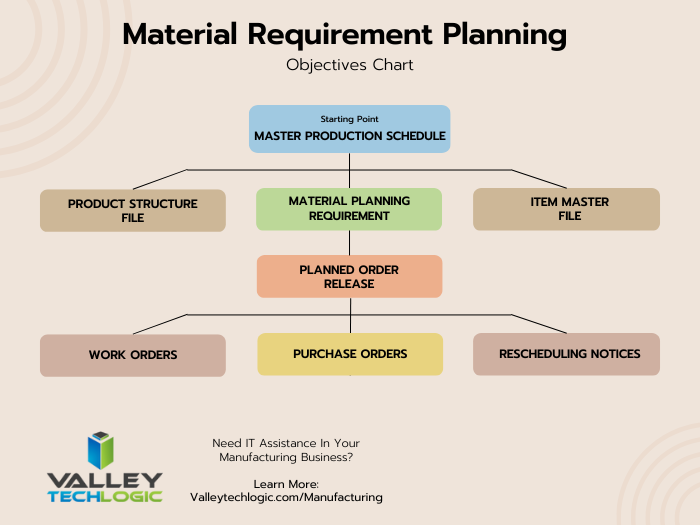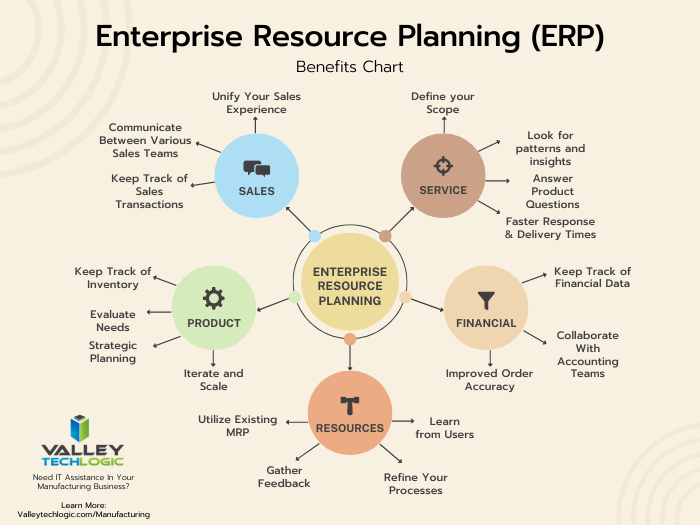 Now at the end of the day both MRP and ERP are software-based solutions, and thus rely on the same maintenance and troubleshooting to the devices that host and utilize it as in any other business. Whether you utilize a cloud solution or on-premise (or even a mix of both) having an outage that effects this software can halt your day to day operations until it's fixed.
Business continuity for our manufacturing clients is paramount, a set back in operations often takes longer to recover from due to the nature of their business. Many of our clients have the wheels going 24/7 and sudden outages are disruptive and costly.
We offer specialized support for our manufacturing clients, we can address issues you may be facing with hardware and look for solutions to keep your existing MRP solutions running.
We also have experience supporting clients who utilize an ERP solution or can help you as you make the switch to one. Our engineers will evaluate your existing hardware and make recommendations that make sense for what you're trying to achieve in your business.
This is on top of our 24/7 emergency support so if you DO have an issue, we can address it right away and get your operations up and running again.
If you're interested in learning more about how Valley Techlogic can help and support your manufacturing business, reach out for a quick consultation today.
Looking for more to read? We suggest these other articles from our site.
This article was powered by Valley Techlogic, an IT service provider in Atwater, CA. You can find more information at https://www.valleytechlogic.com/ or on Facebook at https://www.facebook.com/valleytechlogic/ . Follow us on Twitter at https://twitter.com/valleytechlogic.